Next Event!
Camp Geneva
6540 Vía Marcia, Fruitland Park, FL 34731
Fri, Oct 28, 2022 6:00 PM
Sun, Oct 30, 2022 4:00 PM
---
Bulletins:
September 23, 2022 - Vendors for September Festival Event!
****Official Staff Post****
As everyone finishes off the last minute things for this weekend, I thought I'd tell you a little about our vendors for this event!
*The Hideaway*
Julia Gabrielov has been a featured artist at Art of Disney at Disney Springs and at Epcot! We've been trying to sync up schedules for over a year and a half! She's never been to a LARP before, and I know you will treat her amazingly well! Also, she is one of my top favorite artists and I have one of her prints in my bedroom! I'd have more, but they keep selling out on me! She will be accepting USD.
Cypress Purdie is doing massages. Mythic's favorite thing after food. Cypress is accepting USD.
Andy Panda is bringing his handmade bows which we have been getting all the updates on. He will be selling in play for crowns.
Steve Conover will be selling his espresso flavored snacks in play and for crowns. The only reason some of us are functional in the mornings.
Benjamin Rodenfels is selling his homemade spice blends in play and for crowns. He doesn't exactly have a character yet, but I am not one to stand in the way of free enterprise!
Danny Ham will have Frederick's Forge set up in the side room of the Iron Keg!
They will all be set up in the Hideaway from 10 am to 6 pm. Jack Martin and Jon Jonathan Posnick have volunteered to assist these lovely folks as I unfortunately am still dealing with the side effects of the MVA and now have laryngitis. Please be cautious on Saturday morning as there will be small stakes in the ground with folks names on them telling them where to set up.
*Travelers*
Ruben Josef Perez, Caitie Lovero, and the usual Saturday Merchant Squad will be wondering through town selling for crowns. Although I think Catie may already be sold out!
*Outside of Town*
The High Horse will be set up in their usual spot just outside of town selling for crowns.
A brand new Hookah Lounge is opening up on the porch of the red building by the lake!
September 22, 2022 - Tavern Menu for September 2022 game!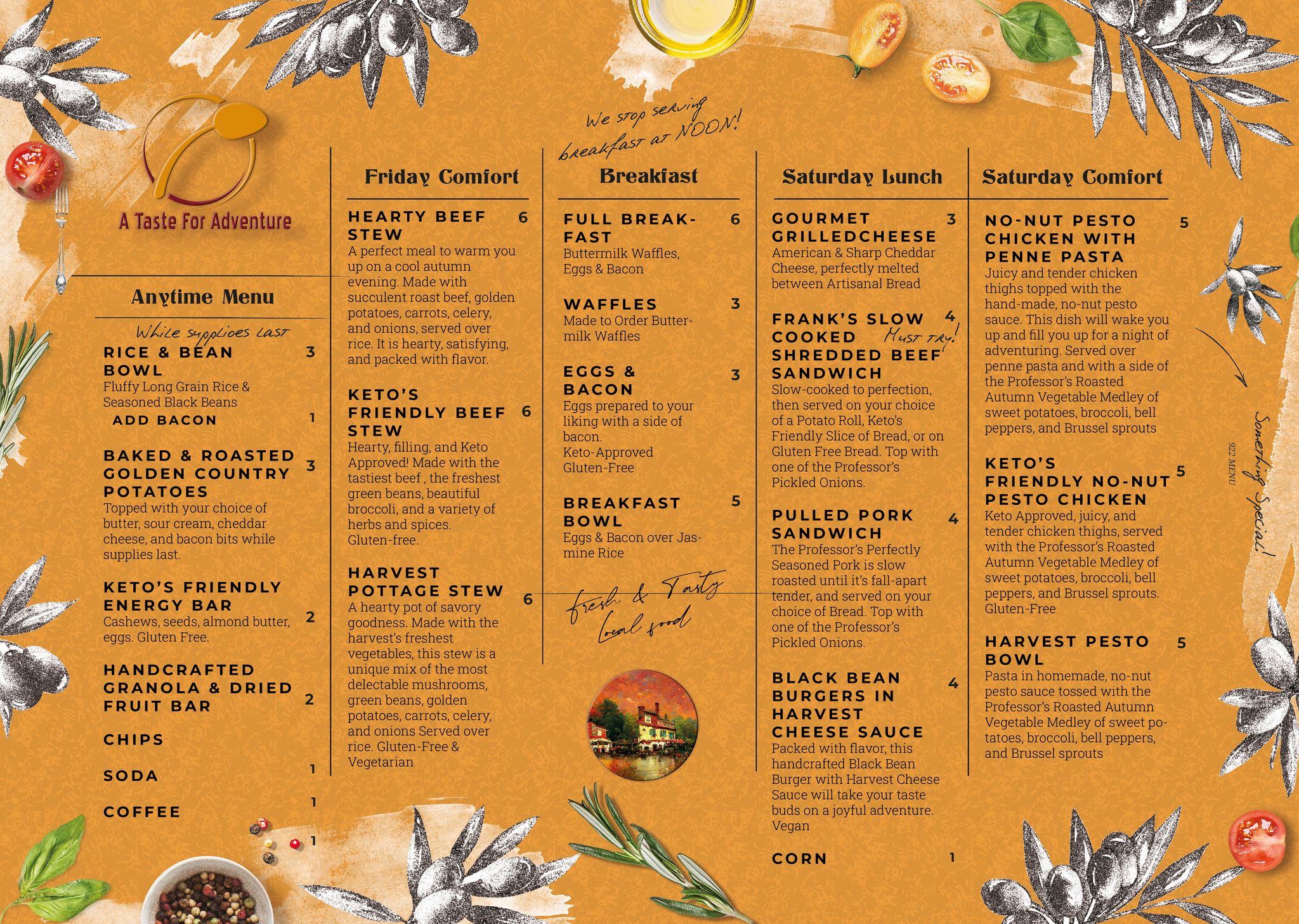 September 20, 2022 - September Game Registration Reminders
****Official Staff Post****
Golden Ticket Holders, Season Pass Holders, and people paying on site!
Please email mythicsignup@gmail.com to let us know you are coming. Include your real name, your character name, and the group you want to stay with.
For example, if you are full time NPCing, you are staying with the full time NPCs.
If you are playing an Ancient, you stay with the Ancients.
If you have not received confirmation, please check the email address and resend it.
September 20, 2022 - Season Opener Updates & Announcements!
From our friendly neighborhood GM Thane!
*******OFFICIAL STAFF POST*********
Hello Players!
We are getting ready to kick off the new season and wanted to start with a few reminders and updates! We have a lot to cover and I will be announcing some of these again at this upcoming opening ceremonies. Each will be listed below as a separate comment, ***please hold comments until I have finished posting them all*** 😊
*****XP Stores*****
XP stores for Metrocon Adventure Rings and for Season 7 will be posted this Friday, 9/23/22 around 12:00 Noon. These will be available as normal for a limited window, which will be detailed in each post. XP stores for the retreat Adventure Rings will be posted the following Friday.
*****Culinary Skill Playtest*****
You may see some new tags for consumable meals of various types during the next few events, up to and including Grandmaster level crafted items. We are playtesting the addition of three potential new crafting paths: Cooking, Baking and Infusions – along the lines of the existing Vinting, Brewing and Distilling production skills. A handful of players have been asked to help us with this for the next several events. If all goes well, after some refinements, we are planning to bring these skills to the wider player population this Yule. If we do, limited respends will be allowed so that interested characters can buy into these production paths.
*****Monster Squads and NPCs*****
Monster Squads are specialized groups of player-costumed and player-created monsters equal in level to those players' highest level character. Jon Posnick is the staff member Point of Contact for all parties in interested in creating a monster squad. Please keep in mind the following, when reaching out:
---Monster squads discussions must include Jon, and any other staff member associated with the creation of the squad, as well as any relevant marshals.
---Monster squads may include production characters, who can create and stockpile up to 3(three) events worth (or less if they have been in play less then three event apart) of Apprentice-Master level production. This should be sent in as a separate email to the production team if the Monster Squad is planned to appear at an upcoming event. Grandmaster Production must be approved by Jon and any staff members involved with the Monster Squad.
---Ritualists and Grandmaster Crafters will be provided with a list of available rituals and recipes, at the direction of Jon or the other staff members involved.
---IMPORTANT* Players may only be on 3(three) active Monster Squads. If any players are currently on more then three, they will have to choose which ones to remain on.
---Monster Squads must have a plot/story driven reason to exist. This can and often is player suggested; but they need to exist for a greater purpose then 'screw with my friends'.
---NPCs are story characters created at the direction of Staff for a specific story reason. These are not subject to the limits above. Production for NPCs can be submitted following the same guidelines above however.
*****RANCH, MOUNTS and CART updates!*****
This season, we will be adjusting how Work Animals interact with Gathering Skills. While Work Animals may not be ridden, certain types will be able to be used to re-pull/mulligan your Gathering Skill for an appropriate skill. If you possess or can raise one of these animals, you will be provided with that information at check-in this event and can use it going forward. You will need to include a picture of the tag along with your submission to the Production Team if selecting preproduction.
In addition, some work animals are able to pull Carts and Wagons, the required components and costs for each will be available for characters that possess the necessary skills and are in a Guild which can create them for distribution.
Carts can transport four people or equivalent cargo, and may only travel along roads. They can be pulled by Oxen, Draft Horses, Mules – and some other special animals.
Wagons can transport eight people or equivalent cargo, an may only travel along roads. They can be pulled by a team of Oxen, Draft Horses or Mules – and some other special animals.
We are currently still working out the costs for In-Play ships and the time required for their construction. These will also need a Guild, just like Ranches and Cartwritghts to operate 'legally'
*****TAGLINES!***** Please review the following: http://www.mythicadventures.org/wiki/index.php?title=Taglines
*****MAGIC ITEM SLOTS*****
We will be placing a limit on how many magic items a player may make use of at one time. At current, these limits are in place for permanent Scepters, Staves and Rods – and will now apply across the board to Permanent Magical Items (items which have been Consecrated or Sealed and regenerate each dawn) per the following:
---Head – one 'slot' which may be utilized for items like circlets, hoods or hats.
---Torso – Three 'slots' which may be utilized for Brooches, Pendants and Talismans in any combination, up to three.
---Armor – Two 'slots' for enchanted armor.
---Left Hand – three 'slots' which may be utilized for Rings and one 'slot' which may wield a Magical Weapon or Shield. Weapons and Shields only carried but not wielded do not provide any benefit.
---Right Hand – three 'slots' which may be utilized for Rings and one 'slot' which may wield a Magical Weapon or Shield. Weapons and Shields only carried but not wielded do not provide any benefit.
---Trinket – two 'slots' which can hold miscellaneous items classified as trinkets. This includes shirts or items which give a benefit when simply carried.
These limitations do NOT apply to consumable items like non-permanent rings, wands, scrolls or talismans which are enchanted for single uses created by production skills. Only PERMANENT, Consecrated or Sealed items are affected. Here's a chart!
September 15, 2022 - Update to Medical History Forms!
***Official Medic Post***
We are making a change to when we collect medical history forms. In the past, we collected them at your first three day, and then you renewed them when something changed or at your anniversary event.
Starting with the September event, we are having everyone send in a new medical history form and sign a new liability waiver at your first three day event, and then every Retreat, or the first three day event of the season that you attend after the Retreat. Hopefully, this will be easier on everyone.
---