Next Event!
Starkey Park
10500 Wilderness Park Blvd, New Port Richey, FL 34655, USA
Sat, Jun 4, 2022 2:00 PM
Sat, Jun 4, 2022 10:00 PM
---
Announcements:
May 25, 2022 - Feypril 2022 Photo Gallery!
With the Bazaar of the Moon 2022 only two weeks away, check out some great featured photos from our Feypril 2022 event over at our Gallery!
May 20, 2022 - New Site Features!
Our Info section has been redesigned to have a new navigation feature to easily jump between the different Info sections: Info, New Players, Health & Safety, and Pull List!
Pull List? What's that? Our new info page! The Pull List Page has a listing of all of the various item tags you can get with our Gather skills! It is organized by the Source Skill as well as it's Tier/Rarity. In addition, you can filter by the various sources and tiers!
May 17, 2022 - Registration for the Bazaar is now live!
Registration for the Bazaar is now live!
Please see the instructions on our Info Page on how to register for an event! Cost for this event is $25.
Reminder: This event allows both teaching and preproduction! Preproduction is due on Friday, May 20th.
April 28, 2022 - Tavern Menu for Feypril 2022!
Our amazing Tavern Staff has revealed the menu for the 4/1-4/3 game! Check it out below!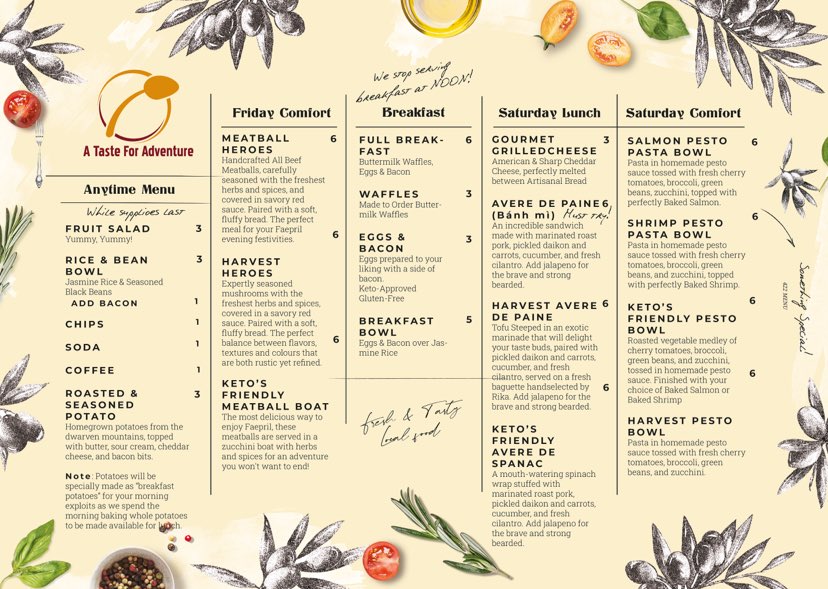 April 28, 2022 - Season 7 Date Updates
The Season 7 Dates have been finalized and are as follows:
☆☆☆☆☆☆☆☆☆
Update for Season 7
☆☆☆☆☆☆☆☆☆
The entire season is now confirmed with Camp Geneva.
A few dates did need to move over a week, to help the park with scheduling conflicts.
Over all we did our best to keep each event 4 or 5 weeks apart.
Mythic Retreat – August 20th and 21st
Festival – September 23rd thru 25th
All Hallowed Eve ☆☆ – October 28th thru 30th
Harvests – November 25th thru 27th
Yule – December 16th thru 18th
Ratification - January 27th thru 29th
Red Hands & Pale Hands – February 24th thru 26th
Alter of Ascension – March 24th thru 26th
Feypril – April 21st thru 23rd
☆☆ This season there will not be a trick orc treat festival due to the dates of Halloween.
As always, you can join our Google Calendar to stay up to date with all dates and any changes that may need to be made, in addition to new events such as one shots and volunteer events!
---